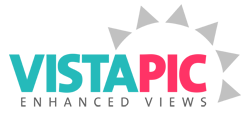 Vistapic offers complete solutions for virtual tours and interactive panorama views of your premises and locations
Panovista images are...
... pan and zoomable panoramic images which are made with photos taken on site by Vistapic.

Interaction = increased attention

The panoramic images can be easily integrated with our interfaces into your website, in your communication etc.

Check following examples:

Ideal for

Hotel room
Event locations
Rental properties
Exterior views
Panoramas

Advantages

easily integrable into your existing website
direct access by URL
Multi-platform compliant
fast / optimized loading times
requires no plugin installation by the user
Our offer
Taking the photos at the customer site

Creating the Panovista panoramic images

Programming the components and provide of the necessary interfaces for direct link via URL, integration into your website, integration with existing systems, etc.

Access to your data 24H over the Customer Account on the Vistapic.com

Cloud-operation of the necessary components and for the access to your data
Further we offer you...

Creation of gallery components with your existing photos and the Panovista images that can be easily integrated into your existing website

Special retouching of Panovista images according to your wishes

Creation of virtual tours of your locations and premises

Enriching your Panovista images with interactive notes, hotspots and Augmented Reality
We look forward to your exciting projects!